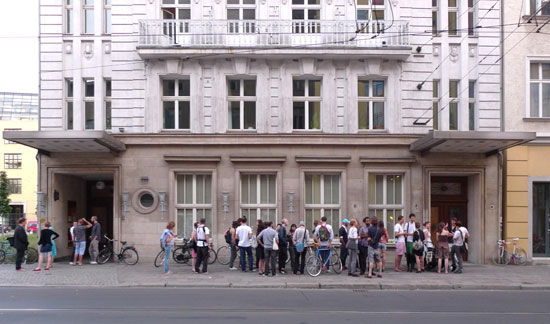 PROGRAM is a nonprofit project aimed at testing the disciplinary boundaries of architecture through collaborations with other fields. Initiated in 2006 by
Carson Chan
and
Fotini Lazaridou-Hatzigoga
, PROGRAM provides a discursive platform for artists, architects, critics and curators to explore ideas through exhibitions, performances, workshops, lectures, and residencies. PROGRAM intends to enrich and broaden our definitions of architecture, and to challenge traditional, domesticated modes of architectural practice and representation. Developing each project independent of an overarching agenda, PROGRAM is striving to diversify the ways we understand and make architecture. Central to our project is to engage the discourse with emerging creative processes that activate the space between pure theoretical research, professional praxis and architecture's social role.
Between 2006 and 2012, PROGRAM occupied the ground level of former Russian Hotel Newa in Berlin, including an exhibition space, workspaces, a reading room / event space, and a residency studio.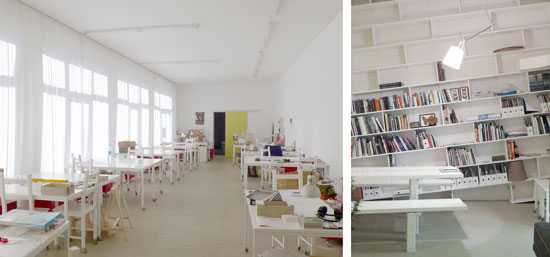 Co-directors
Carson Chan
(1980) is a Berlin-based architecture writer and curator. Chan studied design, history and theory of architecture at both Cornell and Harvard University. In 2006, he worked under Andres Lepik curating architecture at the Neue Nationalgalerie in Berlin. His writing on art, architecture, and contemporary culture appears in books and periodicals, including
Kaleidoscope
(Milan), where he is contributing editor, and
032c
(Berlin), where he is editor-at-large. Chan has interviewed a broad range of personalities, including Thomas Demand, Udo Kittelmann, Lacaton Vassal, William T. Vollmann, Winy Maas (MVRDV), Greg Lynn, Rick Owens, and David Simon. He has lectured at the Schaulager (Basel), GAMeC (Bergamo), 12th Venice Architecture Biennial/ Nordic Pavilion, Bund Deutsche Architekten (Berlin), 0047 (Oslo), the Fondazione Ratti (Como) and has moderated several international architecture conferences including DATUM:KL 2010 in Kuala Lumpur.
Chan is an active advisor to several cultural institutions including DLD (Munich), Europan, and the Premio Furla - a biennial prize given to the most promising emerging artists in Italy. In 2008 he organized an evening of panel discussions at the Neue Nationalgalerie (Berlin) with leading artists, architects and curators to commemorate the 40th anniversary of the Mies van der Rohe building. With Nadim Samman, Chan curated the
4th Marrakech Biennale
in the spring of 2012, which was enthusiastically received both in Morocco and abroad. Chan is Executive Curator of the
Biennial of the Americas
, opening in Denver, in July, 2013. He is currently working on a series of essays on exhibition making, and along with Eeva-Liisa Pelkonen and David Andrew Tasman, he is currently organizing a conference at Yale University about architecture exhibitions.
//
www.carsonchan.net
Fotini Lazaridou-Hatzigoga
(1979, GR) is an architect and researcher whose practice explores the possibilities inherent in the intersections between social and physical spaces. Such context specificity finds working manifestation in curation, artistic production and collaborative organization, all of which point to an interest in structure as a dynamic of being and working together.
Fotini holds a Diploma of Architecture from the Aristotle University of Thessaloniki and a Master in Design Studies in the History and Theory of Architecture from Harvard University where she studied on a Fulbright Scholarship. She is one of the founders of PROGRAM in Berlin and was one of the organizers of
HomeShop
, an artist-run space in Beijing, active from 2008-2013.
//
www.otherspaces.net