Bau / Rückbau (Build / Unbuild)

a film screening curated by Brigitta Wagner and organized by Kino Satellite
Tuesday November 22, 2011, 19:30-22:30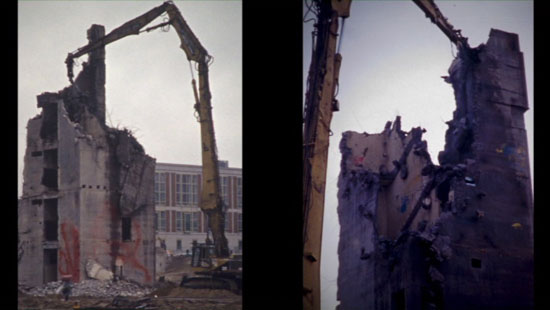 still from Reynold Reynold's
Letzter Tag der Republik
(2010)
Bau / Rückbau (Build / Unbuild) is a one-night gallery exhibition organized by Kino Satellite and curated by Dr. Brigitta Wagner. On November 22, Wagner will present some work through the auspices of her IU DEFA Project, which focuses on East German films of the transition years. Wagner's forthcoming book focuses on Berlin cinema and spatial memory. The mission of the DEFA Foundation is to preserve the films of the former East German studios, and oversee their use for the public good as part of Germany's cultural heritage.
The building and demolishing of architecture has fascinated filmmakers since the very beginning of cinema. The same technology that could document a building's construction, existence, or destruction could also manipulate time. By reversing the film in projection, construction could become destruction and vice versa. Buildings that had long disappeared could, through recording and replay, come to life again. Build/Unbuild will be a program of short films, scenes, and raw archival footage that celebrates one of Berlin's most famous absent structures, the Palast der Republik, the multi-purpose people's palace that housed both the East German parliament and numerous cultural venues.
In 1990, the GDR's Volkskammer closed the building due to asbestos. In 2003, the Bundestag decided to rebuild the Palace of the Hohenzollerns, which had previously occupied the site. Thus began the multi-year process of "unbuilding" the Palast der Republik. This slow removal of one of East Berlin's most famous landmarks enabled the building to be used, in constantly morphing ways, until the last bit of its material disappeared. Build/Unbuild will explore a variety of audiovisual materials—made at different times with differing aesthetic and political intentions—that not only document the life and death of the Palast, but also contribute to its mediated afterlife. The program asks viewers to watch not a film or several films, but the building itself. The film material will be shown in the original German versions with a post-screening discussion to follow in English.
Film Program
Demolition d'un mur
(1895),
Demolishing and Building Up the Star Theatre
(1901),
Der grosse Saal
(1977), Archival Footage & Sequences,
Stadtplan
(2004), and
Letzter Tag der Republik
(2010)
Berlin-based American artist Reynold Reynolds'
Letzter Tag der Republik
will be the key film on which the evening will hinge. Reynolds will join Dr. Wagner in conversation with Thomas Plenert.
Reynold Reynolds (1966) is an American artist and filmmaker who studied with Physics Nobel Laureate Carl Wieman and experimental filmmaker Stan Brakhage at the University of Colorado in Boulder before receiving his M.F.A. at the School of Visual Arts in New York City. In 2003, he received a Guggenheim Fellowship, and in 2004, he was invited to The American Academy here in Berlin. These grants along with support from the German Kunstfonds, have produced numerous award-winning projects. In his films and installations Reynolds has been drawn to images of transformation, consumption, and decay, which we will see reflected in the films STADTPLAN (2005) and LETZTER TAG DER REPUBLIK (2010).
Thomas Plenert (1951) is one of Germany's foremost cinematographers in the realist tradition. Trained at the Hochschule für Film und Fernsehen "Konrad Wolf" in Potsdam and in Lodz, Plenert got his start in DEFA documentaries, most notably working with Jürgen Boettcher, Helke Misselwitz, and Volker Koepp, with whom he has continued to collaborate since the Wende. Plenert has shot numerous documentaries and features in Berlin, including THE WALL (1990), A PLACE IN BERLIN (2001), and YOU ARE NOT ALONE (2007).