Yarinda Bunnag & WIll Patera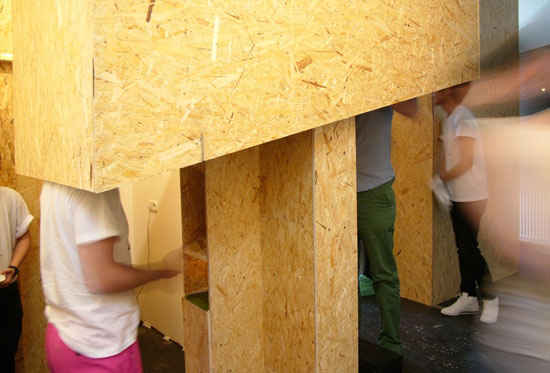 Will Patera
 is an architectural researcher, currently a member of the 
Massachusetts Institute of Technology's Design and Computation Group
. After receiving his Bachelor of Architecture degree from 
Cornell University
, he moved to Bangkok and began work at 
Duangrit Bunnag Architects
 and currently serves as an adjunct professor of architecture 
Chulalongkorn University, International Program in Design and Architecture (INDA)
.
In the summer of 2010 he founded "INDA Berlin" in collaboration with Yarinda Bunnag and Carson Chan, that brought twenty-four architecture students from Bangkok to Berlin for six weeks of study. The 
project culminated in a temporary "restaurant"
 in Berlin Mitte, designed, constructed, and operated by students. In the summer of 2011, Patera, Bunnag, and Chan will bring another 24 architecture students to Berlin for five weeks to research the concept of
"Conflict Zones"
.  His current research at the Massachusetts Institute of Technology focuses on developing methodologies for visualizing human presence in social systems and addressing gaps between physiological realities of the eye and visual perception.
Yarinda Bunnag
is an architect, musician, and actor. She released her debut album 'Yarinda' after her first year studying architecture at Cornell University. After receiving a Bachelor of Architecture, she moved to Bangkok and worked as an adjunct professor at Chulalongkorn University's Faculty of Communication Arts and later at Duangrit Bunnag Architect Limited. Yarinda continues to produce music and has released three full length albums, 2 EPs to date, and performs regularly within Thailand. Yarinda has been nominated for numerous musical awards for her work and most recently received the Seesan award for 'Female Artist of the Year' for her latest album 'Schools' which was released in November 2009. Yarinda is also an actor: she has been in two movies, both of which she portrays the leading character. Her latest project, 'The Red Eagle' was released in theaters in October 2010. Yarinda has been an invited guest for various public lectures and interviews. She is currently an adjunct professor at Chulalongkorn University's International Program of Design and Architecture in Bangkok and a Master of Architecture candidate at Graduate School of Design, Harvard University.
During their residency at PROGRAM, Patera and Bunnag will coordinate
Conflict Zone: Berlin, from 1945 Onwards
– a collaborative six week project with 24 Chulalongkorn University students in Berlin.