Edith Dekyndt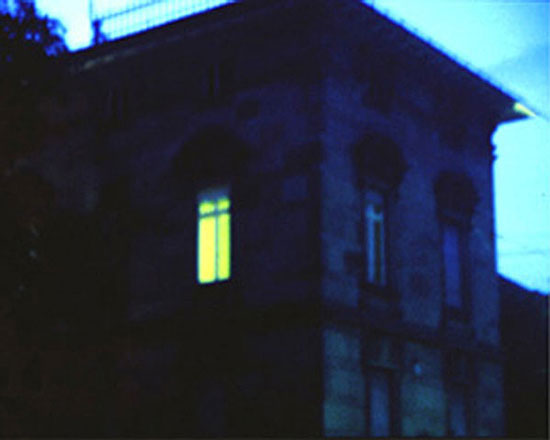 Alone at Home (extracts of domestic coloration), video still, 1999
The work of Edith Dekynt deals more than anything else with the aesthetic act. Her research into phenomena is a search for a truth that exists in the invisible or nearly visible. In this way she approaches the infinite, absolute, and unreachable (cold, dust, humidity, static electricity). The invisible or nearly visible has a profound and mutable beauty that she seeks to uphold and make the viewer aware of.
In Deleuze, as in the phenomenological tradition, one finds the reading or description of reality as something that must be built, designed as a process by the subject, as work to be done, drafted …
While Edith's pursuit to apprehend often overlooked phenomena is conceptually and theoretically rigorous, her strategies have the freshness and optimism of a 'student science fair project'. It might be that many of us haven't thought about the events that so interest her, since our childhood. Edith's work, and it is work in the real sense because she is so serious and earnest, is explored in a manner not unlike a scientific study. Clearly however, the work is subjective, her built description of reality. Again, her aims are poetic rather than 'objective.'
—Neil Minuk extract from Edith Dekyndt,
Apprehension of Invisibilities
Edith Dekyndt lives and works in Belgium. Recent group exhibitions include:
Commitment
curated by Luk Lambrecht (De Garage, Mechelen, BE, 2007),
Welcome Back, Mister Paik!
, (Mukha Media, Antwerpen, BE, 2006)
Suite Fibonacci
curated by Christopher Veys (Galerie Frederic Desimpel, Brussels, BE, 2006),
Tracer, Retracer 2
curated by Nicole Gingras (Leonard & Bina Ellen Gallery, Concordia University, Montreal, CA, 2006),
Sattelite of Love
(Witte de With, Rotterdam, NL, 2006). Recent solo shows include:
Two White Pieces
curated by Neil Minuk (Arch 2 Gallery, University of Manitoba & Plug In Gallery, Winnipeg, CA, 2006),
Slow Objects
(Porte 11 Gallery, Brussels, BE, 2004).