Elina Kellermann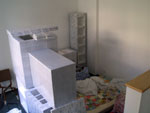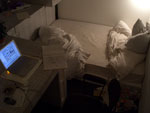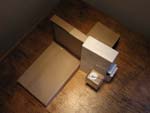 Elina Kellermann studied sculpture at the Academy of Fine Arts Maastrict. While a resident at Program, Elina focused on
Rancho Mirage
, a project dealing with a provisional living and working environment. She started the residency when the space at Program itself was at a moment of transition.
Rancho Mirage
is questioning spatial and mental aspects of being in transition, beginning with design of lightweight office furniture from styrofoam - product of an ongoing collaboration with the artist Marlie Mul (
www.productlove.org
).
Elina investigated the given empty space at PROGRAM in an attempt to organize a working/sleeping situation in transition, leading to the development of a working/sleeping station.