Fountain magazine launch and panel discussion
Friday November 27, 2009, 20:00
Forever changes - what kind of future does Berlin really offer artists?

Department for Sculpture-Transmedial Space, Kunstuniversität Linz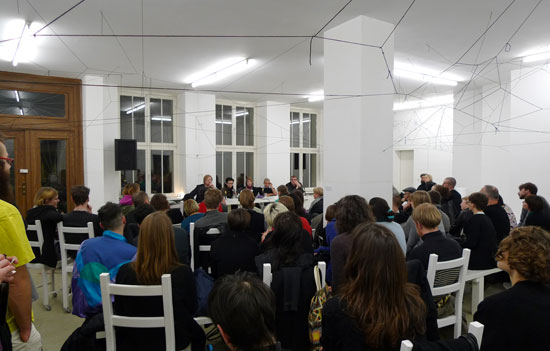 As is well known, many artists from around the world flock to Berlin because of its cheap rent, availability of workspace, its relatively liberal and secure social environment, and the manifold cultural scene the city supports. Yet Berlin remains a financial drain – a place that costs more to run than it makes. Artists routinely take up teaching jobs elsewhere, money is wired in, and many galleries rely on collectors that come into town only for a few days. How long can this last? Can Berlin continue as a mere alternative to the treadmills of London or New York? Will it develop a treadmill of its own? Or is there a third option, a different kind of socio-economic environment that will differ from the models of the big financial centers?
Carson Chan
, director of program e.V., Berlin
Eva Grubinger
, artist, Berlin, professor for Sculpture-Transmedial Space at Kunstuniversität Linz
Stefan Heidenreich
, writer, Berlin
Waling Boers
, director Boers-Li gallery, Beijing
Moderator:
Jörg Heiser
, editor in chief, frieze magazine, Berlin; guest professor at Kunstuniversität Linz
fountain
is the new annual magazine of the department Sculpture-Tansmedial Space at Kunstuniversität Linz/ The University for Art and Industrial Design. The first issue deals with the consequences of globalisation and economisation for the individual, for society, and for art. With contributions by Jörg Heiser, Stefan Heidenreich, Adolf Krischnanitz, Rebekka Ladewig, Sarah Decristoforo and many others.
Thanks to: Förderungsverein der Kunstuniversität Linz, BAWAG/PSK