Hadley + Maxwell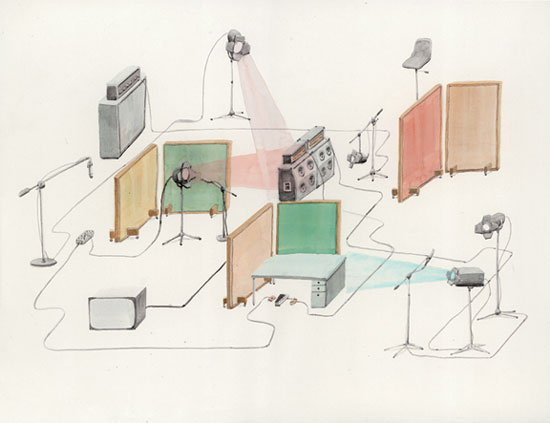 Study for 1+1-1, ink, gouache, watercolour on paper, 59.4x42 cm, 2007
In Hadley+Maxwell's work social and political subjects are seen through the lens of popular culture and considered through installations involving moving image, sound, drawing, painting and sculpture. Their recent interest in an ethics of rehearsal has led them to reference subjects as diverse as Jean-Luc Godard, Joseph Albers, and the Rolling Stones, in continued investigations into the relationship between art, taste and revolution.
Currently based in Berlin, Hadley+Maxwell first met in Vancouver, Canada, and have collaborated and exhibited their work internationally since 1998. Their investigations into cultural history, contemporary philosophy, and musical language have taken the form of film sets, opera and dance productions, as well as conceptually driven works in all media. Their writing and image-based projects have appeared in publications including Art Lies!, the Fillip Review, Modart, Public, C Magazine, Prefix Photo, West Coast Line and World's Best New Art, published by Bétonsalon Verlag für moderne Kunst Nernberg. They have recently exhibited at the Contemporary Art Gallery (Vancouver), Vancouver Art Gallery, Cooley Gallery (Portland), Western Bridge (Seattle), Noorderzon (Groningen, NL), and
Jessica Bradley Art + Projects
, where they are represented, in Toronto. In fall of 2007 they completed a residency and exhibition at Berlin's Künstlerhaus Bethanien, and are currently participating in the exhibition Just Play: Musik als Soziale Praxis at the Edith-Ruß-Haus für Medienkunst, Oldenburg, and Kunstraum München.
Hadley+Maxwell's work at Program will be in preparation for the exhibition Good Gangsters in Town, in collaboration with curators Adnan Yildiz and Esther Lu, for the Taipei Museum of Fine Arts in June 2008. The exhibition is designed as a critical experiment in the bureaucratic structures and social narratives of art institutions. This work follows an interest in the interweaving of bureaucratic, social, and architectural structures, and is inspired by the idea of the "Schreibtischtäter," the preserved 1960s office furniture of the Stasi offices in Lichtenberg (des zentralen Komplexes des Ministeriums für Staatssicherheit), and the Platenbauen in the East of Berlin. The aesthetics of these structures and the ways their ideological images have morphed and adapted to the changing political environment is the motivation behind proposals for imaginary office spaces, or Schreibtischbauen, that play with fantasies of social organization and a particular human desire to witness labor, or humanity at work.