Hallenprojekt
SS09 Seminar organized by Stephanie Davidson & Georg Rafailidis, Assistants
June 30 – July 3
Teaching Chair for Building Typology and Design
Faculty of Architecture, RWTH Aachen University
Univ.- Prof. Dipl. Ing. Anne-Julchen Bernhardt
Univ.- Prof. Arch. Meinrad Morger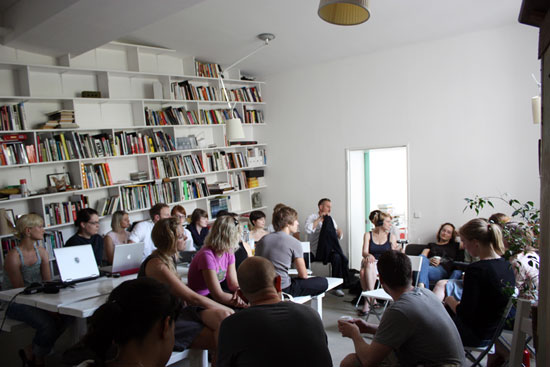 The ways in which people work are multiplying. New forms of work, particularly of self-employment, have emerged partly as a result of the scarcity of employed positions.
Hallenprojekt.de
is an internet-based platform developed to encourage and support exchange between people engaged in self-employed or self-directed work. It was developed in Berlin by Christian Heller, Alexander Lang and Sebastian Sooth.
The objective of the seminar was to look at the spatial consequences of what has been termed "new work." Four Berlin Hallenprojekt locations were used as case studies to analyze how "new work" plays out both spatially and socially. How can the "new," highly flexible and ever-moving worker be better served by the spaces in which he/she works? How can Hallenprojekt, as a network of very different spaces, become a more fluid spatial infrastructure that "new workers" know about and use?
The seminar was structured as an intensive 4-day workshop and used the library/meeting room of PROGRAM as a base. Sebastian Sooth generously assisted in organizing the case study locations and participated daily in the workshop, which included also presentations by Markus Albers, author of "Morgen komm ich später rein," product designer Elisabeth Kamm and Fotini Lazaridou-Hatzigoga of PROGRAM.
The seminar was organized and tutored by Stephanie Davidson & Georg Rafailidis.