Carme Nogueira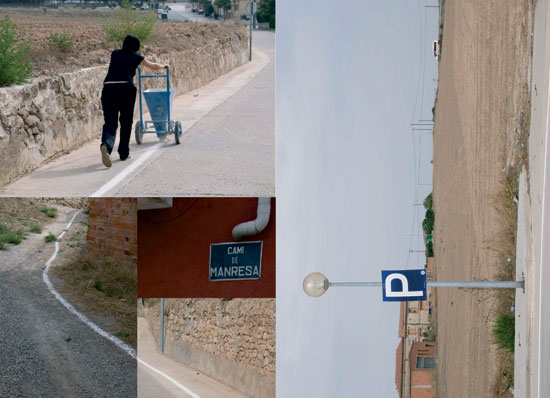 During her career as an artist, Carme Nogueira has worked in the field of corporal criticism of the concept of identity or domestic intimacy in relation to her gender position. In her most recent work she examines the daily resistance to the imposed uses of the city, through specific spatial devices. Some of her last projects are
Porteños
Intervenciones-Valparaíso (Chile 2010);
Rotterdamweg,
(Rotterdam, 2009);
Exhibition Device
Sala Rekalde (Bilbao, 2008);
Prospera
, (Instituto Cervantes, Beijing / MARCO Vigo 2007-2008),
Objetos de interpretación espacial
(Idensitat, Barcelona, 2007) and
Nos Caminos
, CGAC, Santiago de Compostela, among others. She is currently working on
Archivacción
, an exhibition device for
Utrópicos, Centroamérica y Caribe (XXXI Bienal de Pontevedra)
.
She took her bachelor's degree in Fine Arts at the University of Salamanca and her postgraduate degree at the University of Vigo. She has been associate professor and researcher at the latter university, and was granted a scholarship by the Hochschule der Künste, in Berlin. Recently she has done residencies in Het Wilde Weten (Rotterdam 2009) and SecondRoom (Brussels, 2009, together with Dieuwertje Komen).
Carme is also the author of the study
Representation as Staging: Toward a Theory of the Gaze
(Alfons el Magnanim, Valencia, 2001), which examined the confluence between art and the viewer in post-historic representation models, analysing the various cultural and political identity strategies, which take place in this relationship. She co-directed
La trama rururbana (the rural-urban plot
), Centro Gallego de Arte Contemporáneo, Santiago de Compostela, a research project from 2006 to 2007, with contributions by The Center For Urban Pedagogy (CUP), Sophie Hope, María Lois and Iria Sobrino, among others.
During her residency, Carme plans to study the local uses of paths as a way of understanding the development of this multiple-centered city, paying special attention to the individual ways of relating the two scales (individual and collective) to one another.
The project focuses on the understanding of the changes in the city during the last years, not thinking in the idea of center as a general or abstract process, but as an individual one. The project wants to emphasize the place of individuals as producers, stressing the importance of telling their stories as a way of constructing new maps of the place.
Supported by a Fundación Marcelino Botín Visual Arts Grant.