In Situ, out of Place
a film/video evening in conjunction with
rePLACE
June 23, 2011, 20:00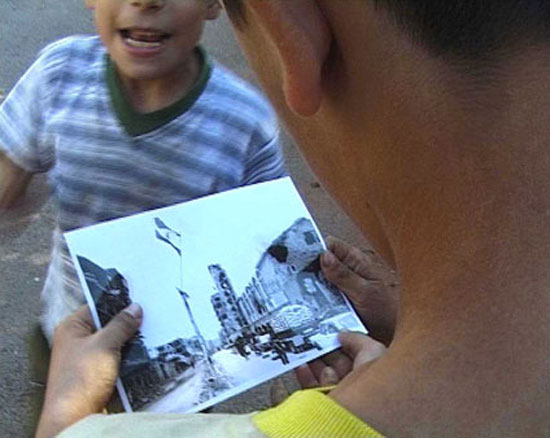 still from
Houna wa roubbama hounak (Here and Perhaps Elsewhere)
by Lamia Joreige
In Situ, Out of Place
shows three journeys through different parts of Beirut—each revealing the inextricability of the city's history from its present stories, alienating scenarios in familiar environments.
Selected by Daniel Berndt in conjunction with the rePLACE project.
Red is the Colour of my Eye
Nesrine Khodr, 2000, 23 min / Arabic with English subtitles
Red is the Colour of my Eye tells the stories of two concierges working at two different buildings that face one another on Hamra street. By way of the passing traffic and views on the people coming in and out of their buildings, Abu-Adel and Abu-Youssef guide us into the time and space of the street, sharing their accounts of memory and territoriality.
My friend Imad and the Taxi
Olga Nakkas & Hassan Zbib, 1985/2005, 19 min
In 1985, Hassan Zbib and Olga Nakkas started filming with their Super 8 camera scenarios of a surreal figure walking through the streets of Beirut. The combination of his appearance in the war-effected city transforms it into a not less surreal backdrop. In 2005 Né à Beyrouth discovered the material and presented a version edited with a live soundtrack by Mazen Kerbaj and Sharbel Habr.
Houna wa roubbama hounak (Here and Perhaps Elsewhere)
Lamia Joreige, 2003, 54 min / Arabic with English subtitles
Joreige's film Here and Perhaps Elsewhere takes us on a journey of remembrance through Beirut as she travels along the former Green Line. At locations that were once crossing-points along the Line, Joreige asked people if they knew of anyone having been kidnapped by the militias during the war.
* To learn more about rePLACE BERLIN, please visit http://berlin.re-place.info. The archive is ongoing, please submit one of your everyday routes online!
rePLACE is a project initiated in 2007 by
PROGRAM
and
Transit Lounge
. rePLACE BERLIN and rePLACE BEIRUT are supported in 2011 by the
Anna Lindh Euro-Mediterranean Foundation for the Dialogue between Cultures
, the
Arab Image Foundation
,
PROGRAM
and
Prince Claus Fund
for Culture and Development
. rePLACE BEIJING is supported by
HomeShop
. For more information please visit
www.re-place.info