Fieldnotes on the Ultimate High Ground
a talk by Steven Rowell
Thursday October 8, 2009, 20:00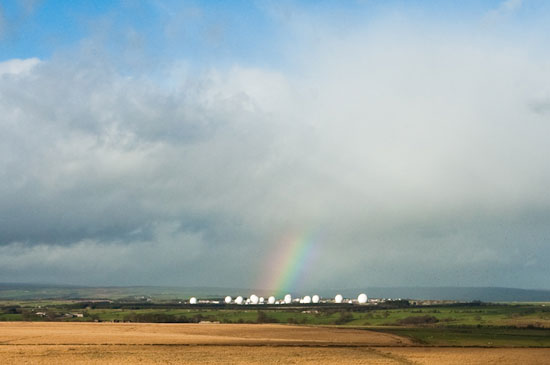 "RAF Menwith Hill after a rain storm. Yorkshire Dales, England." Photo by Steven Rowell.
Steven Rowell
is an artist and researcher based in Berlin and Los Angeles, working with photography as well as with audio and video recordings captured in the field. He examines technology and infrastructure on, beneath, and above the landscape, contextualing the built with the natural environment. In addition to his own practice he collaborates with
The Center for Land Use Interpretation
,
SIMPARCH
, and
The Office of Experiments
.
Rowell presents one of his current solo projects,
The Ultimate High Ground
, with emphasis on his installation in the forthcoming group exhibit –
Dark Places
– opening November 23 at the John Hansard Gallery in Southampton, UK.
The
Ultimate High Ground
project is about the terrestrial manifestation of a much larger global network of undisclosed places, remote bases, and orbiting satellites. It is also about the atmosphere that surrounds us, charged with coded transmissions, as a critical conduit between these far-flung places. This UK chapter of the world-wide
Ultimate High Ground
project looks at two places in England – RAF Menwith Hill and RAF Fylingdales – that blur the lines between national identity and sovereignty, the extraterrestrial and the extraterritorial, omniscience and invisibility, the horizon and the frontier. Menwith Hill is a communications teleport – an earth-station in constant contact with commercial and military satellites, some undisclosed. Located on a small ridge west of Harrogate in the Yorkshire Dales, it is the most advanced of its kind in the world. Fylingdales is a radar site capable of sensing any orbital object larger than a baseball within 3,000 miles of its location in the North York Moors. These two places are fixed technological nodes in a fluid cartography, in orbiting constellations, constantly re-defined by current and future geopolitical strategies. Both are enigmatic, extraterritorial places on the English landscape, dwarfed by their own global sensing capabilities and geopolitical and technological importance. Streaming incomprehensible amounts of sensitive data in an internal network, these ground stations form the surficial landscape of a largely invisible, seemingly infinite construct of extended perception.
The project title is a reference to the 2003 RAND Corporation monograph entitled "Mastering the Ultimate High Ground: Next Steps in the Military Uses of Space". The
Ultimate High Ground
is commissioned by
The Arts Catalyst
.