Iris Touliatou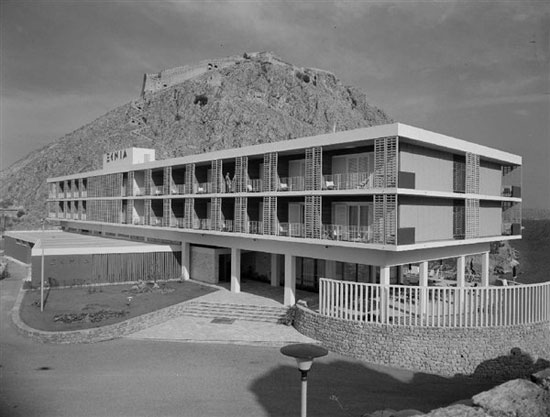 The Xenia hotel in Nafplio, 1961, D.Harisiadis/Benaki Museum Archives (from the
Apollo goes on Holiday
project)
Iris Touliatou investigates architectural space, questioning the utopian ambitions of modernism and the fictional, 'dramatic' nature of architecture through its relation to cinema. During her residency at PROGRAM Iris will produce a new series of works based on Sergei Eisenstein's scenario for
Glass House
; a film that the pioneering director and former architect would unfortunately fail to realize.|
The
Glass House
(1926 to 1932) was to be about living in a new type of dwelling, a glass tower, like the skyscraper Mies van de Rohe proposed for Berlin's Friedrichstraße in 1921 and the one Frank Lloyd Wright designed for the Bowery district in Manhattan in 1930 (neither was erected). Eisenstein's film wanted to invent an architecture that would exist only and through film but nevertheless symbolically document and mythologize the conflict between the utopias of glass architecture of the 1920's.
Following this axis, the project is conceived as a postscript, including diverse conceptual gestures, reinventing the mise-en-scenes of a multi-layered architectural drama, producing space through new angles and perspectives and composing an abstract 'symphony in glass'.
Iris Touliatou
(b. 1981, in Athens, lives and works in Paris) has recently shown at the Palais de Tokyo in Paris and at the National Museum of Contemporary Art in Athens. She is currently preparing a solo show at
Duve Berlin Gallery
.