Jodi Rose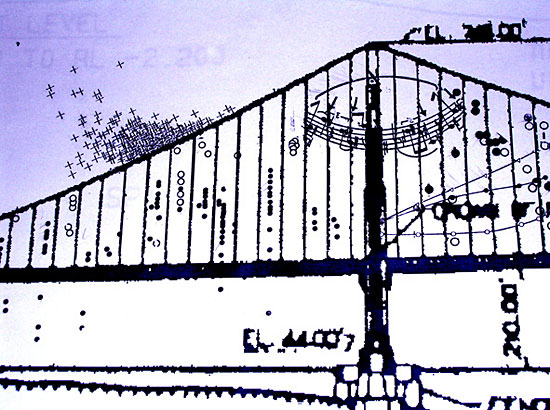 Jodi Rose is an artist with an international practice spanning conceptual sound art, radio, writing, bridges, performance, installation and site-specific work. Her major project is the Global Bridge Symphony, a live networked performance based on the sound of bridge cables, singing around the world.
Jodi has listened to many bridges since 2002, creating Singing Bridges, a conceptual sound work using the cables of bridges as musical instruments on a global scale. Recording the vibrations in the cables with contact microphones, editing and composing the sounds to create experimental music, performances, and installations has taken Jodi to festivals and events across Europe and Australia. She has dangled from the top of a crane in Bangkok to listen to the cables being 'tuned,' sampled cocktails in the bar of the UFO Bridge in Bratislava, been guardian of a bridge over the Danube, and traversed the globe from Helsinki to the Mekong Delta in her endless quest for bridge music.
Working across disciplines and borders with engineers, architects, musicians, artists, composers, theatre directors and physical performers, video artists and writers, Jodi is gathering an international team to link the sounds of bridges around the world in the live networked 'Global Bridge Symphony'.
Her work has been exhibited, broadcast and performed in festivals, galleries, and on radio in Australia, Europe, New Zealand, UK, USA, Scandinavia, Thailand and Vietnam.
Every bridge sings a song.
Global Bridge Symphony project info

Global Bridge Symphony 2.0 is a creative network with a constantly developing and evolving framework, aiming to link and facilitate the ongoing interaction and engagement of many artists from a range of disciplines, locations and backgrounds with the concept of Singing Bridges. The core of the project is to create several versions of the Global Bridge Symphony, through the human and technological networks that develop during this process. Resulting in a variety of site-specific concerts; an online audio-visual player; live mixed media performances; gallery and on-site installations, the project  includes a collaborative online interface to facilitate and promote the creative contributions of musicians, engineers, architects, composers, sound artists, video artists, writers and designers. During her time at Program, Jodi will be working with a range of local and international collaborators to develop ideas and strategies for various aspects of the Global Bridge Symphony.
Please click
here
for a list of local and remote collaborators.