SOUND CONSTRUCTIONS
What are the intersections of sonic resonance and physical structures, how are artists exploring and interpreting this constantly shifting field, and where is it all going?

a 2-day event exploring the convergence of sound, place and architecture, present and future
March 8-9, 2008
participating artists: Hans Appelqvist, Michael Bates, Leif E. Boman, Kim Cascone, Rob Curgenven, Peter Cusack, Luka Dekleva, Elaine Wing-Ah Ho, Derek Holzer, Ernst Karel, Jacob Kirkegaard, Anne Kockelkorn, Brandon LaBelle, Eric La Casa, Momus, Seiji Morimoto, Udo Noll, Luka Prinčič, Jodi Rose, Rowena Easton & Mike Blow, Carsten Stabenow, Henry Stag, Aaron Ximm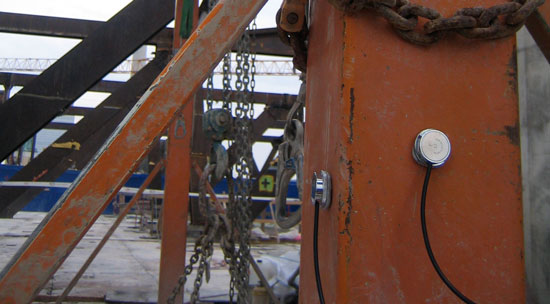 image: Sophie Erlund and Jodi Rose listening in to the Palace der Republik, Berlin, 2008
Sound surrounds us, moves through us and affects our perception and experience to place and space in more ways than we usually imagine. The sound of knowledge being produced in scientific labs, the sound created by the ears themselves, the vibrations of the city playing a new kind of music, wavelengths of the wall coming from the frontline in Sarajevo, the secret voice of bridges transmitted across the globe, the sound of radio waves in the ether, sound as intervention back into the street, and creating an imaginary city with sound, all come together in a fascinating weekend forum.
How is the perception of everyday life informed by the sonic texture of our world, what are the energy fields that sound plays in the body, resonates in the urban landscape, and echoes through space?
Come by and listen in to the ideas, philosophy and sound constructions of an extraordinary range of artists working in the sonic fields.
SOUND CONSTRUCTIONS is curated by Fotini Lazaridou-Hatzigoga and Jodi Rose, current artist-in-residence.
Special thanks to Rinus van Alebeek, Somaya Langley and Kim Laugs.